There are endless amounts of options to choose from when selecting the fixtures for your store. Slatwall is a popular choice for thousands of retailers. It is affordable, durable, versatile and simple to install. With its large variety of accessories, slatwall works for all types of products. Whether you have a clothing boutique, vape shop, candy store, beauty supply, etc... Slatwall will work for you.

While slatwall panels come in 4' x 8' horizontal panels, you can cut it to fit for your specific space. In the first example, the slatwall is cut to fit the exact dimensions of the entire wall and to go around the door frame. Picture 1 features Apen Oak Slawall with black accessories and black inserts to create a cohesive look that pops. The multi-level fixtures attract the eye while utilizing vertical space.
On the other hand you may not want to cut the slatwall or cover the entire wall. This look creates a focal point on your wall, attracting the customer's eye to the product. Add Endcaps to give the wall a finished look. Picture 2 shows 4 pieces of Brushed Aluminum Slatwall with white end caps and chrome waterfalls.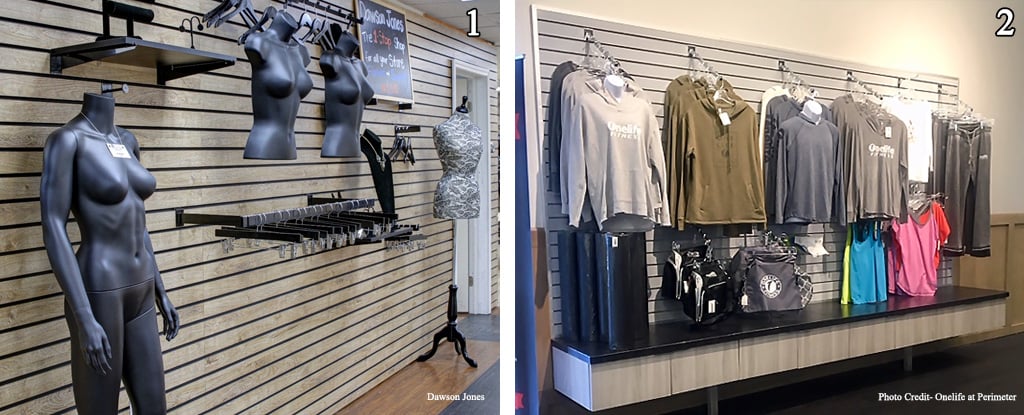 In addition to slatwall panels, there is also free-standing slatwall fixtures. Slatwall island merchandisers help create the layout and flow of the store. They are available in several different structures and colors. The best part is, you can move accessories from wall to fixture with ease.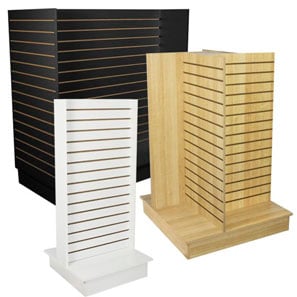 Streamline Display
The slatwall streamline display is a double sided, upright display. Versatile in the fact that it is large enough to display on the showroom floor, yet small enough to stand by the counter for impulse purchases.
H-Unit
The 2ft H-Unit and 4ft H-Unit Display offers four slatwall panels for merchandising- 2 side panels and the center front and back panel. Utilizing all 4 sides, you can display many items while saving space. An ideal choice for a center island or use multiples to create aisles.
4-Way Display
The pinwheel shape design of the 4-way slatwall display allows you to show off your merchandise from all 4 sides, while optimizing space. This is the perfect display to go in the center of any showroom.
Part of what makes slatwall so versatile, is the endless amounts of accessories available. No matter the product you are looking to display there is an accessory for it.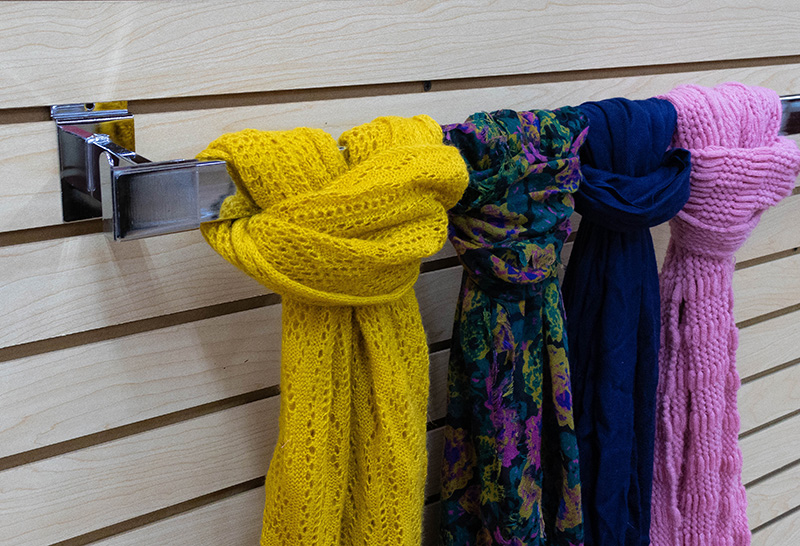 Hangrails
Hangrails with rectangular bars gives you the option to hang clothes on the wall in the same fashion you would on a rack. Use a 12" hangrail to hold the rectangular bar for hanging clothing hangers. Try the 3" hangrail (as seen in picture) to display scarves.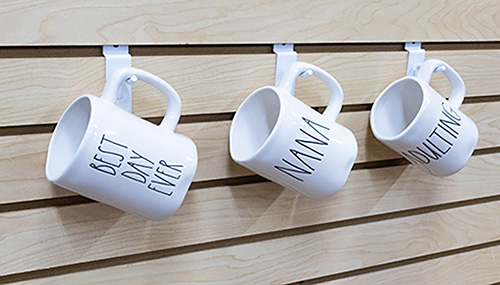 Hooks
Hooks, one of the most used options, are great for displaying a variety of items. We recommend using hooks for light weight packaged items and other trinkets. We carry hooks ranging in size from 1" to 12" ,as well as a picture hook size.
Faceouts and Waterfalls
For displaying clothing, opt for faceouts and waterfalls. The faceout places the clothes straight out from the wall, while the 7-ball waterfall cascade the clothes down. Use the 5 hook waterfall for displaying hand bags. The back ward facing hooks allow you to pick the purse in the back without having to remove one in front of it.
Shelving
There are tons of options for slatwall shelving. Use slatwall shelf brackets to hold melamine wood shelves, glass shelves, and bullnose shelves. This is completely up to preference and the look you are going for.
There is also the option of wire shelving and baskets. Great for holding loose items that may not stay upright on a shelf, such as snacks, toys, and other odds and ends.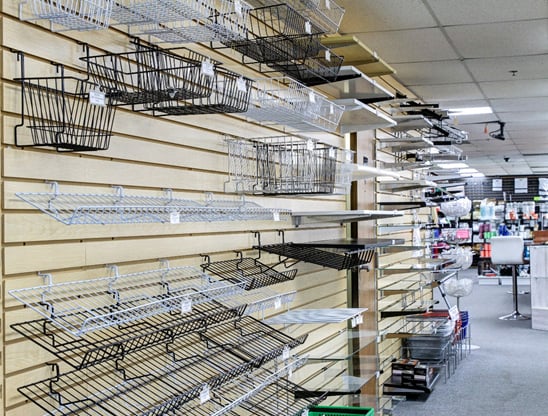 Click Here to view all of our slatwall panels and accessories.
There are endless ways to utilize slatwall. What are some of the ways you utilize slatwall? Leave us your thoughts in the comments.
If you have any more questions regarding slatwall or any of your store fixture and supply needs, give us a call at 770.458.7234. One of our experienced sales associates will be happy to help you.